Tanglin Rugby Club – SingLife Girls 7's Rugby Tournament
WIth the efforts of Tim Woodward (Flying Kukris) and Mike Jackson (Tanglin RC), the Jakarta Komodos Girls Under 14 and Under 16 ventured to Singapore to test their skills against opposition from around South East Asia.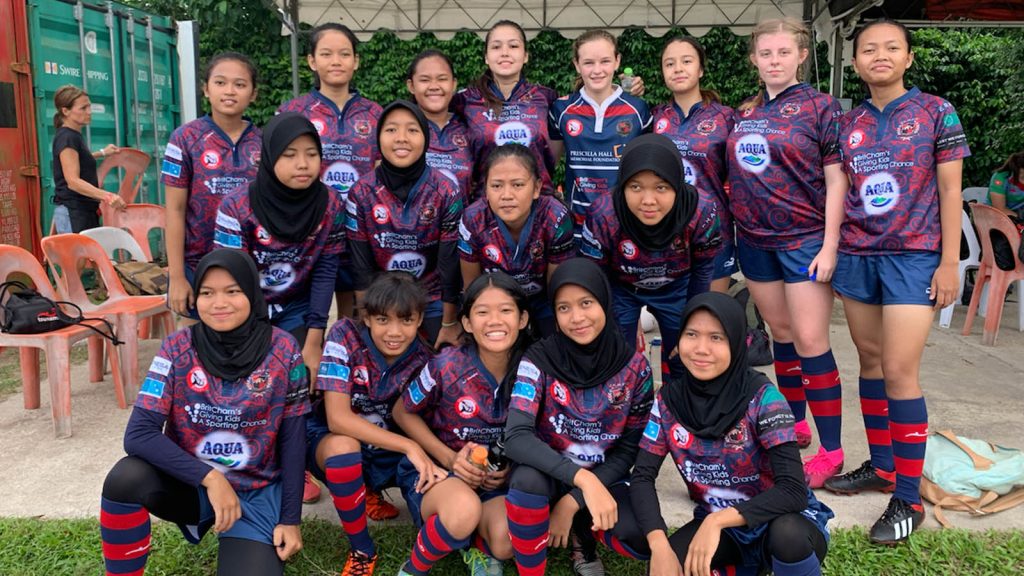 The majority of the girls who were flying the Indonesian flag were from the local Keranggan SMP, together with a handful of mixed nationality and foreign players attending schools in Jakarta.
Many of the Keranggan SMP girls have never held passports, let alone ventured out of the bustling Jakarta city. so this was an experience to remember.
With a total of 16 girls across both age groups, each touring player was going to get a lot of game time.    The sides that the Komodos would be playing against would end up being from Singapore, Hong Kong and the Philippines.     Tanglin played host to the third year of the tournament, with a total of 17 clubs from around south-east Asia; represented by 450 girls aged between 9 and 18.
Overall, both sides had a mixed bag of results, however after a number of close losses came some wins and by the end of the tournament the U14 side finished with the Plate Trophy and the Under 16 side came 3rd overall.
The significance of this trip was more important than the results, but with the results came an increase in confidence, an increase in self-belief and an increase of maturity.   Something that the girls will forever remember.
Rugby has the ability to bring communities, cultures and personalities together both on and off the field and this tournament achieves it very well.
Following a full day of playing on Saturday, the girls fronted up the following morning for a combined group training session with all teams mixing together to enjoy the training drills that were put on by the volunteer coaching staff.   Language barriers are forgotten and the girls leave Singapore with increased confidence and a greater sense of self belief.
As a senior member of the Jakarta Komodos Rugby Club, I speak for all members and say how we proud we are of how the girls conducted themselves, both on and off the field.
Written by: Ahmed

Photographs from the Weekend.https://drive.google.com/open?id=1h7re8kMGeuzAMpFGYJvf2TocmlmGlkoT