Post Match Report – BECA Jakarta 15s Game 3: Komodos v Bantengs
On paper Game 3 of the season was set to be our toughest game yet. The pressure was on as we knew the game was going to bring with it bragging rights between two clubs with a keen rivalry. To add to that we had a new Captain in Ben with Don away and Club Captain Shielsy being sensible with his recovery (finally!) was on the bench. With our top try scorer Owen away on wine duty in Australia we also had a new look partnership in the centres and the backs had a new set up to get to grips with.
Date: Saturday 3rd March 2018
Time: 12:30 kick-off
Location: Pondok Bambu Football Ground
Referee: Mr Taka
Starters: 1. Will; 2. Jim; 3. Ewan; 4. Bertrand; 5. Scott; 6. Hugo; 7. Thomas (VC); 8. John; 9. Coco; 10. Ben (C); 11. Gayan; 12. Dom; 13. Jay; 14. Changy; 15. Justin.
Finishers: 16. Husin; 17. Dan N; 18. Zee; 19. Henco; 20. Shielsy; 21. Goose; 22. Chris; 23. Dex.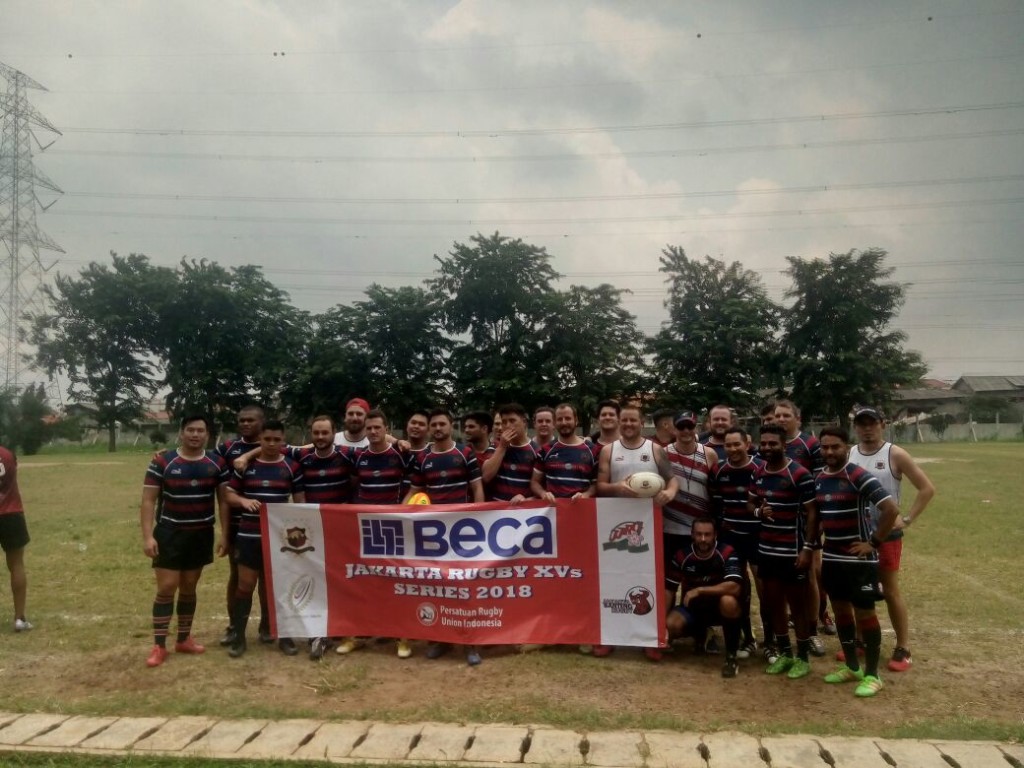 Our game had been moved to the patch of dust of a pitch at Pondok Bambu, the team were in unfamiliar surroundings and the significant distance away from a golf clubhouse reception made me feel uneasy. We warmed up swiftly when informed the game would be proceeding at the anticipated time and my pre match talk focussed on the importance of rhythm (keep ours & disrupt theirs), communication and purpose in our play. This was soon forgotten in the midst of a "hurt arena" Andy Farrell style presentation from our club captain and frankly was more suitable for this occasion.
It has to be said that the game was devoid of any sort of clear structure as defence from both teams for the first quarter was on top and the boys found it hard to keep the pill in hand. We saw a vast improvement in the scrum which helped us keep ball and dominate possession. Whilst making an impact in the scrum Will and Ewan also made an impact in the loose, running hard and straight.
The message at the first water break at 20mins was to keep it simple in the forwards and set the backs free and we relied on the short-range quarterback sneak tactic of our scrum half Coco to break the deadlock with a crucial try on 25 minute mark and a successful conversion from Justin took us into a slender 7-0 lead.
Our first substitution of the day came earlier than expected as (Dirty) Bertie needed a backrub and Dan N made a welcome return to the side. Soon after this try on 35mins our fullback Justin received a yellow card for his first ruck related offense (apa?). Going down to 14 men for ten minutes galvanised the spirit of the opposition and their bench. This would be panic stations for any other coaching team but I knew we had little to fear with Changy and Gayan sweeping back from wing to cover – two of the smoothest operators in recent Komodos history – they took it in turns to track back and fill in at fullback when required. Moreover in the centres we had Dom fired up and Jay was back from injury doing his best impression in defence of De wet Barry and his flying missile approach to tackling.
Halftime
The second half started and a change was made with the hardworking Jim being replaced by Zee at Hooker. Scott who played a cracking physical game was given a breather and replaced by our new comrade Goose who continues to impress with his dedication to our digital comms strategy. On the pitch he found his legs and ruck the opposition (rather than his teammate) this week which was a relief to myself and Dom in particular. The referee called time off due to the weather and a lightning break allowed us to take stock of the situation and fortunately the game continued after a two minute pause. Shielsy came on to replace John who had run hard all day and given the cause his all. With the game still in the balance the highlight of the match had arrived, a Banteng back move attack looked dangerous but with Justin covering from full back he followed the play as it went from his right to his left and as the opposition flyhalf received the ball back on a wrap, he caught the opposition player perfectly in a tackle that brought a huge rumble from the spectators. O yes. A game winning tackle, a statement and timed to absolute perfection.
With the momentum back with the Komodos after Justin's intervention Ben unfortunately had to go off which allowed me to step on to the pitch and shuffle in on the left wing. We then proceeded to score two tries on the right wing. Gayan had a hand in the making of both and the superb passing, kicking and positional play he exhibited during the afternoon bought dividends. The first try was a lovely run through from Dom and the second from Jay was a well worked team try and the finish in the corner was a fantastic celebratory swallow dive.
Henc, Chris, and Husin came on to solidify the team for the run in and the boys really looked pumped and ready to get stuck into the beers as the final whistle went. Not the prettiest performance but heart, determination and a perfectly timed monster of a hit won the day.
Final Score: Komodos 19 – Bantengs 0
Man of the Match: Awarded to Justin 
Thanks to our sponsors Albens, and Eugenio of El Asador, El Machote fame for our wonderful Bintang and support. Tsunami for the o so fresh kit, Eastern Promise for the discounts and allowing me to put on a booze fuelled show for the front bar last Saturday. Fortunately all footage of said event has been recently bought by the National Enquirer.
A huge thanks to all those who played and came to support. You are legends and make this club what it is.
This is rugby!
by Dave / Dex (JKRFC Head Coach)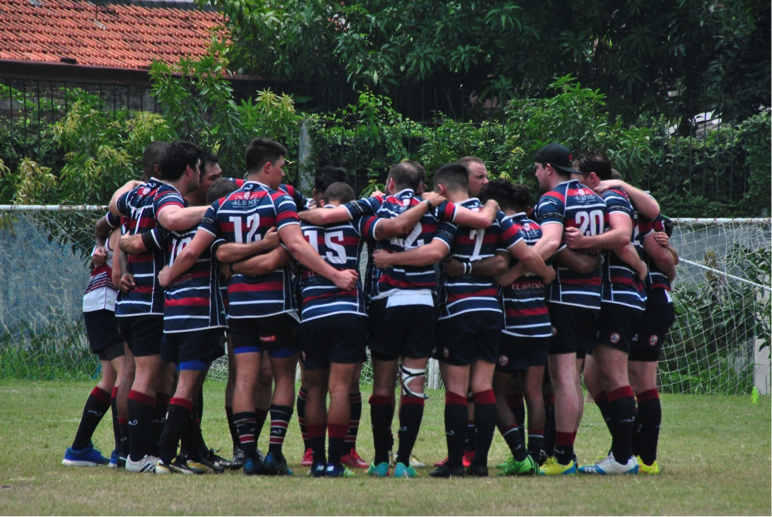 Lets do this – pre game huddle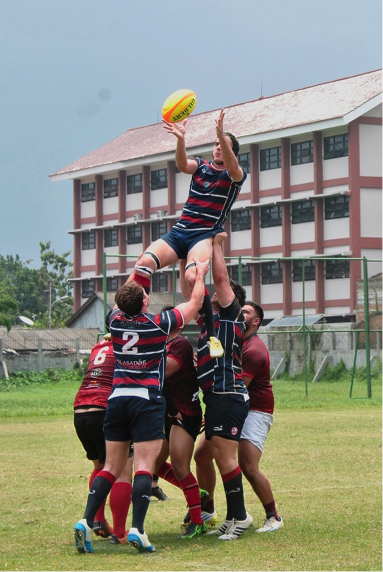 Decent air from Thomas and a huge shift from the Aussie props (Ewan and Will) to bring that fine beer for after the game, superb work on the pitch too lads!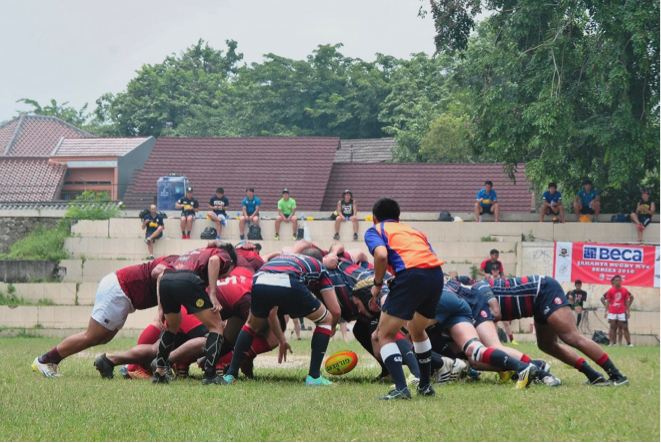 Better scrum but remember to get your hips below shoulders everyone! Flankers also don't forget to push like you mean it, the props need that support from the side.
That smile when your three tries up and try a miracle pass that fails spectacularly!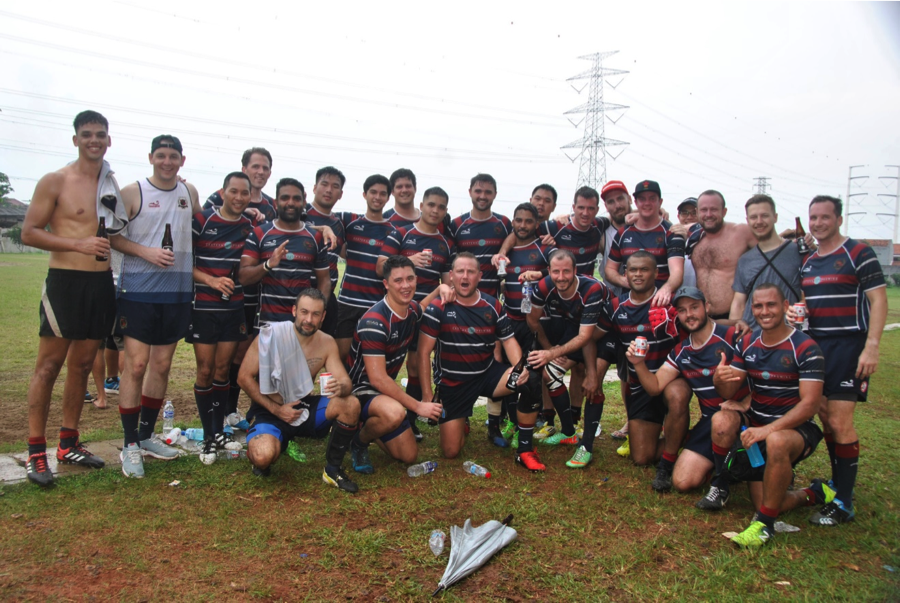 Great win lads and more to come from this team.