2018 Jakarta 10s
One of Asia's greatest one-day rugby tournaments, the Jakarta Komodos Rugby 10s, is back in force in 2018 with Open Men's 10s, Women's 7s, Veterans 10s and Juniors all coming together for a beautiful day of rugby at the Jagorawi Golf & Country Club, on Saturday, May 5.

Hosted by the Jakarta Komodos Rugby Club and Persatuan Rugby Union Indonesia (PRUI, or Indonesia Rugby), the entry fee for the competition covers tournament entry, players' lunches, refreshments and a large supply of cold beer once teams are knocked out.
Jakarta is a great city with a great group of expatriates who love to play a great game. Join us at the Jakarta 10s for a day of exciting on-field action, and an evening and night enjoying the attractions of Indonesia's capital city. Please follow us on Twitter and Facebook for the latest news about the rugby tournament.
Open Men's 10s – 700 USD or equivalent IDR
Women's 7s – 300 USD or equivalent IDR
Vets 10s – 600 USD or equivalent IDR
Juniors – 400 USD or equivalent IDR
With payment comes: Play, meal tickets, water, beer, discount at post-tournament venue – Eastern Promise (EP) in the heart of the South Jakarta entertainment district.
There is an excellent range of hotels available in South Jakarta that cater to all budgets. Our recommended lodgings, however, are the Hotel Kristal, which is offering participants in the 2018 Jakarta Komodos Rugby 10s exclusive deals, ranging from about US$100 per night for a one bedroom suite (or twin share) plus buffet breakfast to about $200 for a three bedroom suite, including breakfasts. More information will be supplied upon request.
Payment Deadline is March 15th.
For confirmation, registration and payment details please email Kyle Larson on komodosrugby@gmail.com or call +628121037454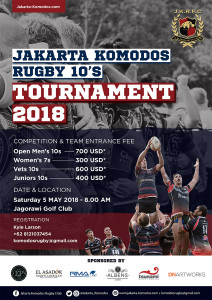 Jakarta Komodos Rugby Club Jakarta 10s 2017
Jakarta Komodos Rugby Club Jakarta 10s 2016