Sponsors Urged to Get Behind Jakarta Komodos Junior Rugby Club for 2017-2018 Season
The Jakarta Komodos Junior Rugby Club (JKJRC) is urging companies, charities and individuals to consider sponsoring the development of rugby in Indonesia. The new junior rugby season, which kicks off on August 26, involves a mixture of expatriate and local boys and girls. In addition, the Komodos have a team of young woman from the Mama Sayang Orphanage.
The Komodos, who have more than 160 junior players, has been blessed with the support of its generous sponsors, including private individuals who have donated money for a number of worthy causes related to the Club's rugby development programme.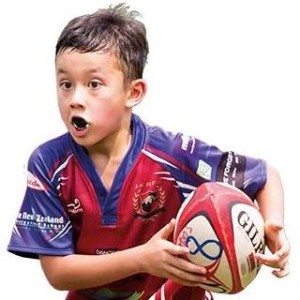 The Club's current primary sponsor is PT AIG Insurance Indonesia. Other sponsors include Danone (Aqua and Mizone), logistics company DHL, valve testing and repair equipment provider Kontrol Indo Raya, mining services company Britmindo, PT Macmahon Mining Services, recruitment company Robert Walters, PT. Lobo Hachoi Mineral, business consultancy ACH Management Co. Ltd, Total Indonesie, professional services consultancy Beca, Priscilla Hall Memorial Foundation and Britcham's Giving Kids A Sporting Chance.
JKJRC chairperson Jess Djamhoer, in releasing the sponsorship proposal for the for the 2017-2018 season, said the Club would be grateful for any and all support, which was "invaluable to us and all our players."
"Through the sponsors' support we had an amazing year last year and participated in some great matches which formed part of the junior rugby tournament in Indonesia," Jess said.
"With our growing enrolment and increased profile among the local communities,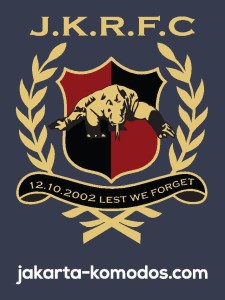 we are very confident that our program will continue to serve as an ideal marketing opportunity for any firm as we will place their logos on our kits."
She said the support playing a crucial role in helping the club develop a growing sport in Indonesia for our young athletes, which now includes a large group from Mama Sayang as well as 40 children from the local Kranggan village, behind the club grounds in Jagorawi."
The Club regularly flies Kranggan Kids abroad to compete in international rugby tournaments. Many of the kids come from poor families and need birth certificates before they can receive their first passports and experience their first trips out of the country.
Given that the Komodos are the only club in Indonesia with an active junior rugby development, it is unfortunately a necessity that the Club travels abroad to play in tournaments. Given the lack of regular Saturday morning matches, the Junior Club had some amazing results last season, including the Under 10s losing narrowly in the final of the Bangkok Tens and the Under 12s coming in third.
This upcoming season, the Komodos are planning the following tours:
• Komodos Junior Women travelling to either Darwin or Singapore
• Inaugural Bali Junior Rugby Tournament in September
• Rugby camp in October
• Centaurs tournament in Singapore in December
• Bangkok 10s in February, 2018
• Jakarta 10s in May, 2018
• Tanglin Tournament in Singapore in May, 2018
The Club, which sponsors a total of 70 local players, prides itself on its mission to achieve fantastic results on and off the pitch with smiling faces, all the while living by our core values of teamwork, inclusiveness, courage and excellence.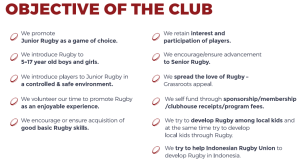 Looking ahead to the start of the new season in August, the Club is fielding teams in the following age groups: Under 7s (for children aged 5 years and above), mixed (boys and girls) Under 8s, U10s, U12s, U14s and U16s, and U18s young men and women. Girls are encourage to play in any of the age group teams, with girls counted among some the best young talent in many of the teams.
Jess said the corporate sponsorship packages were available for Rp15 million, Rp35 million and Rp50 million. Full descriptions of the available sponsorship packages and the benefits can be viewed HERE.
"We encourage any potential supporter to have a look at the packages on offer and support the Jakarta Komodos Junior Rugby Club in our efforts to help develop grassroots rugby in Indonesia, and to help develop children through rugby," Jess said.