Post-match report: Jakarta Komodos Rugby Club v Rugby UNJ
The Jakarta Komodos Rugby Club's first friendly XV-aside game of the pre-season was originally scheduled against the Jakarta Bantengs, however due to limited squad availability they withdrew from the fixture very close to game day. This gave us the opportunity to take on the team of young bloods from Universitas Negeri Jakarta (UNJ), who not only convincingly beat us in one of the two fixtures against them last season in the domestic league, but who also came up against us in the Jakarta XV's Grand Final.
With only 30 minutes before kick-off and in true Komodo style we still didn't have our full squad changed and ready to hit the field. Things started to come together and morale seemed to pick up on the arrival of Corentin with the much-needed ice for the post game Albens Cider that was sitting in direct sunlight in our makeshift dugout! What was particularly good to see was the number of injured Komodos making the effort to support the team on game day… long may that continue.
With only a few minutes to go before kick-off, our last player and starting No 9 Gayan arrived. This guy lives in the apartment block opposite the stadium yet seems to struggle with time keeping on a Saturday morning. I look behind him and see his drunken alibi! Yes our Vice Captain Timbo Slice. Say no more.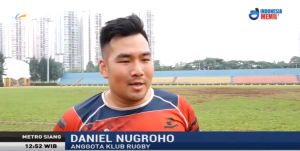 1st Quarter – Mr Larson blows the whistle, UNJ kick the ball high and just short of our 22. It's immediately caught by our new player John Lutua and carried back towards the half way line before UNJ finally take the "unit" to ground! A few messy phases by both teams followed before the first scrum in the centre of the muddy field.
It didn't take long for Dom "The DomINATOR" to get his name on the score sheet with his standard display of fast feet, hand offs and persistent drive to the goal line. Score 5 – 0
On the restart, we saw a good display of running rugby by UNJ until they were met with a strong turnover at the ruck by Komodos. The ball spun through a few phases before being scooped up by Dan McNally on the left wing. His pace made it past 2 scrambling UNJ boys before he scored his first try since recently turning 40. Score 10 – 0
Komodos continued to control the game and dominate possession, leading to another great try by Dom. Some passionate support play by many of the boys trying to keep up with him, but when he has that much open space ahead he'll never pass it. Score 15 – 0
With one minute to go before the end of the 1st quarter and much needed water break, Dan McNally receives a spinning pass from Jay on the left wing, which he tucks under his arm and breaks over the goal line for his 2nd of the day. Score 20 – 0
John is seen to be carrying at least 3 UNJ players around his neck when powering through their 22. Unfortunately, this resulted in him getting an injury requiring a rest on the side line.
2nd Quarter – I turn my back for a second and Gayan gets a try! And this one is converted, I'm told. Score 27 – 0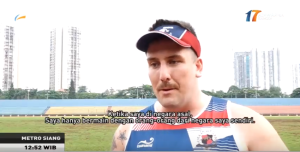 Another restart and UNJ are clearly up for getting back in the game. After 3 phases they see a huge gap in the Komodo defence and it's try time. Score 27 – 5
Following 5 minutes of broken play by both teams, Jay receives the ball and powers over the line for try number 6. Score 32 – 5
UNJ are behind on points but certainly not giving up, responding with an immediate try. Score 32- 10
Komodos continue to be on the end of some dangerously high tackles, causing the supporters on the side lines to shout out to Mr Larson to invoke some card sanctions on UNJ. Sadly, the Komodos don't take advantage of the penalty and the ball gets lost in the ruck, giving UNJ the opportunity to get the ball wide and power on to the goal line for their 3rd try. Score 32 – 17
Various substitutions are made to ensure everyone receives game time and to allow others to find their lungs again. John insists he is fine and returns to the field.
Quick look into the sky and I see a drone over the phase of play near the goal line, check left and see Farah controlling the eye in the sky from the palm of her hand. This was also seen by a player on the field, who came to the side-line wanting to be substituted as he was feeling the effects of the sun! Really Owen? Missing the wife?
Russ, a young and speedy Papuan player from one of our league rival teams (and now a potential new Komodo) is beyond eager to get on the field. He is held back to ensure the Komodo old guard get match time but he finally gets his chance to wear the red and blue and is put on the wing. After a few phases, he receives the ball and sprints to the goal line for what appears to be a definite try! Unfortunately for him he runs beyond the dead-ball line and places the ball – No try – nicely caught on Farah's drone.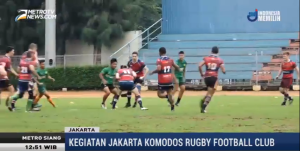 3rd Quarter – After a 5-minute halftime break, refreshments, and huddle, the boys hit the field wanting to get hold of this quarter and it wasn't long before Franck scored his first try on his Komodos debut. score 37 – 17
Once again UNJ came out with intent, getting back to back tries and conversions rather quickly. Score 37 – 31
An over-excited, passionate and injured player on the side line over stepped the mark and marched onto the pitch shouting for Komodos to drift right to cover the overlap. This frantic behaviour was registered directly by the on-field Captain, who rightly told me to get off the field, "I'm in charge" or words to that effect. Fair play Dan N.
Some pretty loose tackling from both sides, leading to screams from the side "legs, legs, legs". UNJ didn't take the warnings from Mr Larson and after yet another high tackle, a yellow card was issued. John suffered another injury with possible concussion and was taken off. After a quick restructure of the forward pack, 19 out of 20 Komodos had hit the field during the course of the match.
AJ came off for a breather to allow Dan McNally to get a hatrick, well that's what we were all hoping for! However, AJ quickly associated himself with our drunken Vice Captain who was currently making his way through the lukewarm Albens Cider at 1045am. AJ decided to scupper a swift bottle during his quick period of substitution and promptly received a skipper's bollocking! He clearly thought he'd done his bit for the club and obviously had never heard of rolling subs!
Hagen appears hesitant to hit the field for his first ever game of rugby. I think we can all relate to that! He was asked several times to replace someone, only to decline when presented with the opportunity, explaining that he wanted to watch a little more. He's abruptly told that if he waits any longer it'll all be over! He sets himself on the wing and is coached by the supporters on where to operate in that crucial position. Before you know it he finds himself in a one on one with a UNJ lad running hard and fast towards him. He commits and makes a huge tackle, putting his body on the line to stop the attack. Cue loud cheers from the sideline! Note to coach: advice needed regarding head positioning during a tackle i.e don't tackle with your head.
The 3rd Quarter finished 37 – 31
Final Quarter – Quick water break, subs on, team chat, huddle and back to it.
Changy opens the scoring with a sneaky try and widens the gap. Score 42 – 31
UNJ bounce back. Score 42 – 38
John insists he is good to return to the field after we lose a front rower. He gets to the scrum to take up his position and is swiftly returned to the bench by Mr Larson.
Jim resumes his spot, Owen heads to the backs, Bertrand, Franck, Thomas, Pierre and Philip rotate between the flanks and 2nd row, and I think Dom gets a brief spell as a forward?
It's now that stage in the game where fatigue is taking hold. Our pack have working hard to retain the ball and UNJ are exposing our occasional weakness in defence. The game is tight, with only 5 minutes remaining.
Komodos retain possession and some skilful play by Jay gets the ball out to Owen who smashes down a try. Score 47 – 38
UNJ hit back with a breakaway try putting the final score 47 – 45
On conclusion of the game we all started to consume whatever ice cold Albens Cider were left, as the supporters clearly needed to clear their dry throats from all the shouting! We are very fortunate that Albens Cider are sponsoring us this season and supplying us with 2 boxes for every game we play……..even in Singapore when on tour. Also a note of appreciation to Pierre for bringing the leftover beer from his recent wedding.
Man of the Match awarded to Jay
Thanks to our increased social media presence we continue to attract new players and much interest from Indonesian TV broadcasters. Our very own SOCMED guru Sam Bulbeck arranged for Metro TV to be present for this game and they took heaps of live game footage and conducted video interviews with the likes of Dan, Kyle, Buj, Shrek and myself. The footage can been seen on many of our SOCMED platforms for all to see.
A warm welcome to our new players, Phillip, Jay, John, Hagen, Franck, Hugo, Dylan, Russ and Bertrand.
THIS IS RUGBY
Chris Shiels
JKRFC Captain