Douwe Sol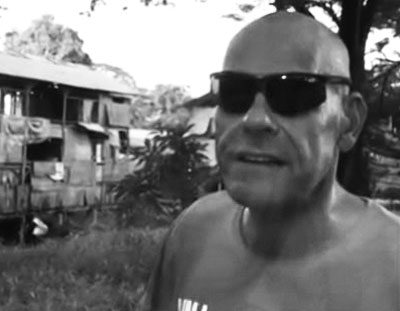 Dutchman Douwe Sol, a member of the Komodos Junior Rugby Club through supporting his son, Kaay, passed away near the Komodo's grounds on a training run on Sept. 20, 2014.
Komodos Junior Rugby Club Chairwoman Jess Djamhoer also paid tribute to Douwe's surviving wife, Desiree, who "was also a huge part of the Juniors Committee gaining lots of sponsorship and publications." Jess said that since the tragedy, Desiree and Kaay had returned to the Netherlands and, positively, Kaay had since been selected for the U15's international Dutch team. "They are such a wonderful family and the Komodos are very proud of Kaay's achievements. All three members of this family will be a part of this club forever."
The following words were prepared by Jakarta Komodos Rugby Club stalwart Kyle Larson.
On a bright sunny morning on 19th September, 2015, a wonderful group of individuals: colleagues, friends, runners and rugby enthusiasts, gathered to run for a dearly departed man, Douwe Sol. As we ran through the streaming sunlight around the Ragunan Zoo; a favourite starting point for Douwe's many long runs, we all knew he was running beside us – pushing us and encouraging our best efforts. I could not imagine a better send-off on the one year anniversary of his passing.
As we ran, I reflected on the last 5 years of getting to know Douwe. My first memory of meeting him was seeing this incredibly tall man, athletic of build and imposing of stature, bringing his son Kaay to the rugby pitch for his first session with the Jakarta Komodos Junior Rugby squad. Douwe was there with Kaay a full hour before practice: running with Kaay, kicking the ball to him for high ball catches, encouraging Kaay to run at him full-tilt to get him ready for the contact-to-come. A beaming smile, utter pride in the young man he was helping, with Desiree, to mold into the fine young man Kaay is today.
As practice commenced, Douwe stayed and watched, pushing Kaay to try harder, run faster, excel in the sport that he knew his son was already a natural at. Immediately, I was overcome with pride – in Kaay, and in the man that was his father. Douwe would go on to become Kaay's most ardent rugby supporter – a true Komodo dad. Even as his interests began taking him on longer and longer runs (preparing for ultra-marathons like Comrades), Douwe always made sure Kaay was at practice on time, striving for his best. Whether on tour, or at training, all of us at the club knew that the best bits of Douwe and Desiree were already in place – it was now up to us to allow them to flourish, strengthen and grow. And that's what we did.
Over 4 years of coaching Kaay, both through the highs and lows of competitive rugby, we were honoured to witness the emergence of one of the finest young athletes, and men, to have come through our ranks. I attribute this equally to Kaay's hard work and commitment, as to the guiding hands of his father and doting mother Desiree.
Even on the darkest and most tragic day of Desiree's and young Kaay's lives, I was witness to Kaay standing up, taking the mantle of this enormous burden he would now have to carry, and shoulder it with the grace, humility and strength of character that was undoubtedly one gift (of many) which Douwe had bestowed upon him. Thrust into adulthood, Kaay stood strong with his mother, ready to brave, and overcome, the challenges ahead. And together, they have.
This is how we remember Douwe – driven, passionate, loving of his wife and infinitely proud of his son. And now, as Desiree and Kaay embark on their journeys without Douwe, we know that he is still there with them; on the sidelines, loving, pushing, shouting (at bad ref calls!), encouraging and beaming with pride.
Rest in Peace Douwe
Kyle (on behalf of the JKRFC)