Mama Sayang Touch Rugby Tournament Charity Event Raises Rp70 Million for Damaged Orphanage
Almost Rp70 million ($5,340) was raised at a charity touch rugby tournament in Jakarta on Sunday, with the money earmarked for the Mama Sayang Orphanage, which was recently damaged by fire. And in a fairy tale ending, a team from Mama Sayang won the juniors competition, while the Jakarta Komodos Rugby Club claimed the senior title.
Agus Djamhoer, who helped organise the Mama Sayang Touch Rugby Tournament Fundraiser, said 16 teams and a total of about 150 people participated in what is believed to be Indonesia's largest ever tournament.
"Donations began coming in before the tournament even started and continued throughout the day, reaching Rp 67 million so far," said Agus, who heads up the Jakarta Komodos Rugby Club's community outreach programme, which places an emphasis on the development of rugby in Indonesia.
"As always, it is great to see members of the wider rugby community in Indonesia, from individuals to businesses, rallying behind a cause, raising money, helping promote rugby and having a good time in the process," he said.
He said that in addition to the money raised, a number of individuals had pledged to donate time and building materials needed to help the orphanage rebuild an important classroom that was destroyed in the fire.
Aaron Meadows, who coaches the Jakarta Komodos Women's Team comprised mainly of young women from Mama Sayang, said the tournament was a great opportunity for all the participating players to enjoy a great day out for a very worthy cause.
"From a sporting perspective alone, there was some great touch rugby on display and a chance for all rugby teams, not just the Komodos, to get together and play," Aaron said. "We don't have the opportunity to play competitive rugby week-in and week-out so this was a great chance to take the field in a competitive setting."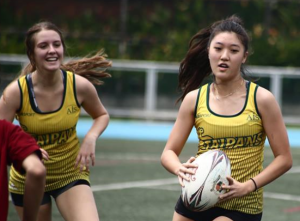 He said his highlight of the tournament was a team of boys from Mama Sayang winning the juniors section of the competition. "These boys are superb natural athletes and know where the try-line is. There were moments of individual brilliance and really well worked team tries, and they rightly deserved the title of champs."
The Jakarta Komodos, who took out the title of Jakarta XV Grand Final Champions for a tenth year in a row on Saturday, have a number of age group sides, ranging from an Under 16s team down to Under 7s. Players from Mama Sayang or the local village of Kranggan form an integral part of the junior rugby programme.
Jess Djamhoer, chairwoman of the Jakarta Komodos Junior Rugby Club, expressed her gratitude to all of the players, referees and supporters, as well as the Jakarta Intercultural School for the use of the school grounds.
"There are a number of people I'd like to thank, including the team that slaved away on the BBQ during the day, Goodwins for donating the sausages, El Assador for the loan of a BBQ and gas, as well as all of the individuals who gave generously during the day," Jess said. "Lastly, I would like to thank the kids from SPH [Pelita Harapan School] for donating Rp12.5 million, which they won in sports competitions over the last year. It's a really magnificent gesture on their parts."